EU innovation project solar and wind on residential towers started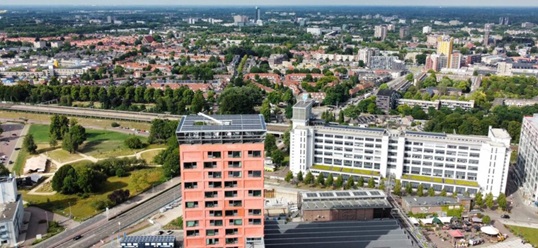 Copyright: TrUE Power

On the former Philips site Strijp-S in Eindhoven, the Netherlands, two spectacular residential towers are currently being built. The first one, called Haasje Over, forms a bridge over one of the largest skate halls in Europe and the second one, called the Trudo Tower, forms a unique vertical forest. And as if that is not spectacular enough, a PowerNEST will be placed on top of both towers, which will generate electricity from both solar and wind energy.
The latter is part of a European innovation project of the Sint Trudo housing association, PowerNEST developer and supplier IBIS Power and open source IT company OpenRemote. Together they work on the Trudo Urban Electric Powerplant, abbreviated as TrUE Power. It integrates the generation of electricity from solar and wind energy (IBIS Power) with a smart real-time energy management system (OpenRemote) in front of and possibly around the residential towers (Trudo).

Within the project, Energy Indeed supports in optimizing the business case. This mainly concerns the optimal coordination of the generated solar and wind power with the local purchase, storage and/or supply of power and an inventory of the technical, financial and legal details. The work is in line with for example previous assignments of Energy Indeed for Rijkswaterstaat (part of the Dutch Ministry of Infrastructure and Water Management) on combining solar and wind.

Mark Meijer - March 23, 2021
mark@energyindeed.com