Project video: solar and wind on residential tower in Eindhoven
On the former Philips site Strijp-S in Eindhoven, the Netherlands, the realization of residential tower Haasje Over has litterally and figuratively reached its peak. A PowerNEST has been placed on the roof which generates electricity from both solar energy and wind energy.
The placement is part of a European innovation project of the Sint Trudo housing association, PowerNEST developer and supplier IBIS Power and open source IT company OpenRemote. Together they work on the Trudo Urban Electric Powerplant, abbreviated as TrUE Power.

Within the project, Energy Indeed supports in optimizing the business case. This concerns the optimal coordination of the generated solar and wind power with the local purchase, storage and/or supply of power. The work is in line with for example previous assignments of Energy Indeed for Rijkswaterstaat (part of the Dutch Ministry of Infrastructure and Water Management) on combining solar and wind.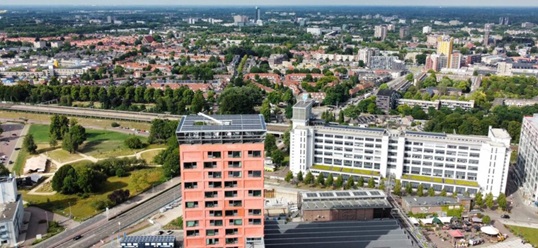 PowerNEST at Haasje Over on Strijp-S in Eindhoven (photo: Ibis Power)



YouTube video: Ibis Power

Mark Meijer - August 25, 2022
mark@energyindeed.com