Follow-up on Indo-Dutch solar energy cooperation
Last Monday, the first installation of the Dutch solar energy company Solarus Solar in India was opened. The project is one of the proposed follow-up actions on a market study that was performed by Energy Indeed and Auroville Consulting last year, assigned by the Netherlands Enterprise Agency (RVO.nl).
The installation uses an innovative technology, that converts concentrated sunlight into electricity and hot water. By concentrating the sunlight and eliminating the hot water, the system achieves a very high efficiency. An interview with Leen Zevenbergen, CEO of Solarus Sunpower, about the installation in India and the report about the follow-up actions on Indo-Dutch solar energy cooperation can be found below:

Auroville Radio: 70% output with Solarus Solar
Indo-Dutch cooperation on solar PV: identification of projects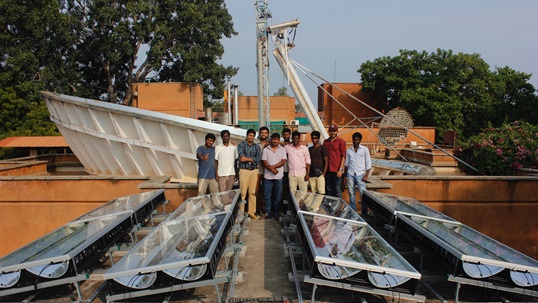 ...

The Solarus installation in Auroville, India

Mark Meijer - January 19, 2017
mark@energyindeed.com